Docentric AX Free Edition
Improves print destinations for all your reports
in MS Dynamics 365 for Finance and Operations.
Completely Free
Free installation, support, hotfixes and updates.
Acts as a Component
Easy to install, easy to remove, no external services.
No Overlayering
Implemented only using extensions.
Configurable
Turn it on or off with a switch.
Print destinations as you expect them to be.
Print any SSRS report such as Sales Invoice or Purchase Order using improved Docentric print destinations.
Check how much better Docentric print destinations are than the built-in SSRS's.
Email Print Destination
FEATURES
BUILT-IN SSRS
DOCENTRIC AX
Use built-in SSRS tokens in To and Cc
Email body, Attachment name, From and Bcc
Edit HTML body using rich text editor
Placeholders in Body, Subject and Attachment name
Use email templates with placeholders
Add additional email attachments
Email reports using Email distributor batch
Multiple outgoing mail servers / sender accounts
Email tokens related to orders, projects, delivery address
Print instead email if email tokens resulted in no email addresses
Reply-to, Bounce-to, Priority, Read and Delivery receipts
Preview before email / Send manually
Learn more  
File Print Destination
FEATURES
BUILT-IN SSRS
DOCENTRIC AX
Download reports in browser
Save reports to File system
Save reports to Azure storage, SharePoint or OneDrive
Attach reports
Use placeholders in output filenames, target folders, blob containers, etc.
Run reports in batch in cloud environments
Learn more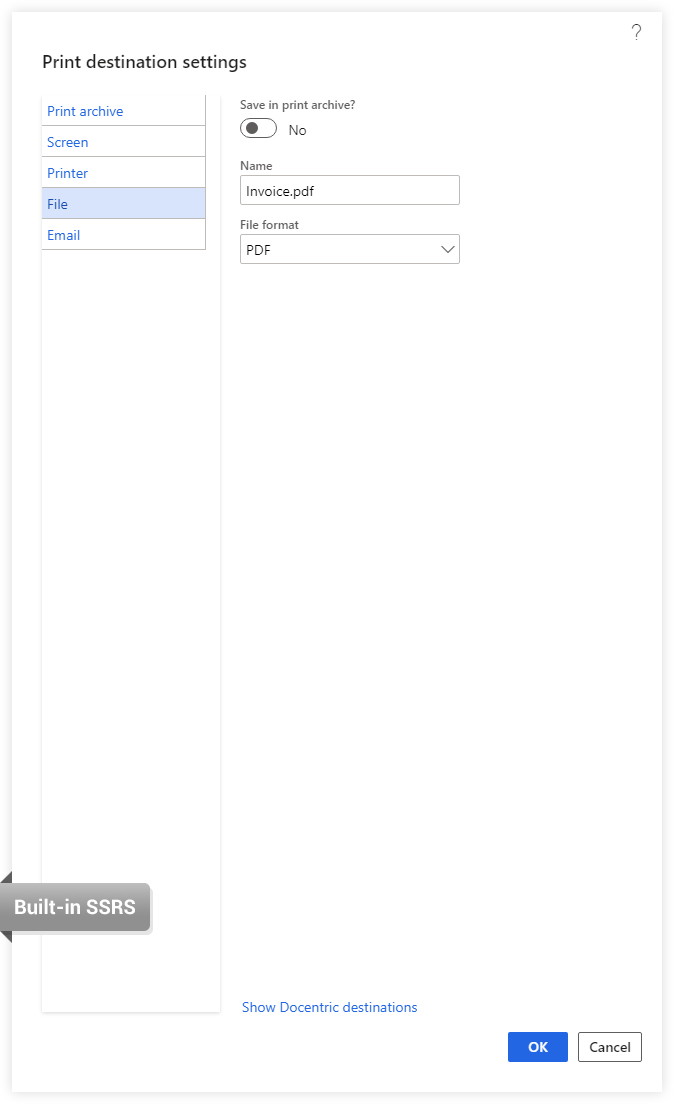 Printer Print Destination
FEATURES
BUILT-IN SSRS
DOCENTRIC AX
Printing to network printers
Printing to local printers
Routing files to network folders
User default printer
User favorite printers
User allowed printers
Report restricted printers
Preview before print
Learn more  
Print Archive
FEATURES
BUILT-IN SSRS
DOCENTRIC AX
Log successfully printed reports
Log failed reports
Preview reports
Rerun reports *
SEARCH ARCHIVE BY
Report, e.g. Customer Invoice, Purchase Order
User, Execution time
Success/Failure *
Print destination, e.g. Email, File, Printer or Screen
Document ID (e.g. Invoice ID), Source Document ID (e.g. Sales Order ID), Customer/Vendor ID, Batch ID, etc.
* This way you will know which reports are failed and rerun them if needed.
Learn more  
Improved License Plate Labels
Simplify your Document routing setup by using additional conditions such as multiple warehouse users for target printers and ZPL layouts. Test the setup, without printing labels to physical printers. Print labels from D365FO, with or without using the setup.
Learn more  
Improved Email Templates
Edit your Email templates for Alert and Workflow notifications or Retail orders using a superior HTML editor with placeholders, right from within D365FO. Create emails with dynamic tables in the body, multiple attachments, Cc & Bcc recipients and more.
Learn more  
Want to give it a try?
Download, install and instantly use new
awesome print destinations.
Free vs. Full Edition
Curious to find out the difference between
Free and Full Edition?