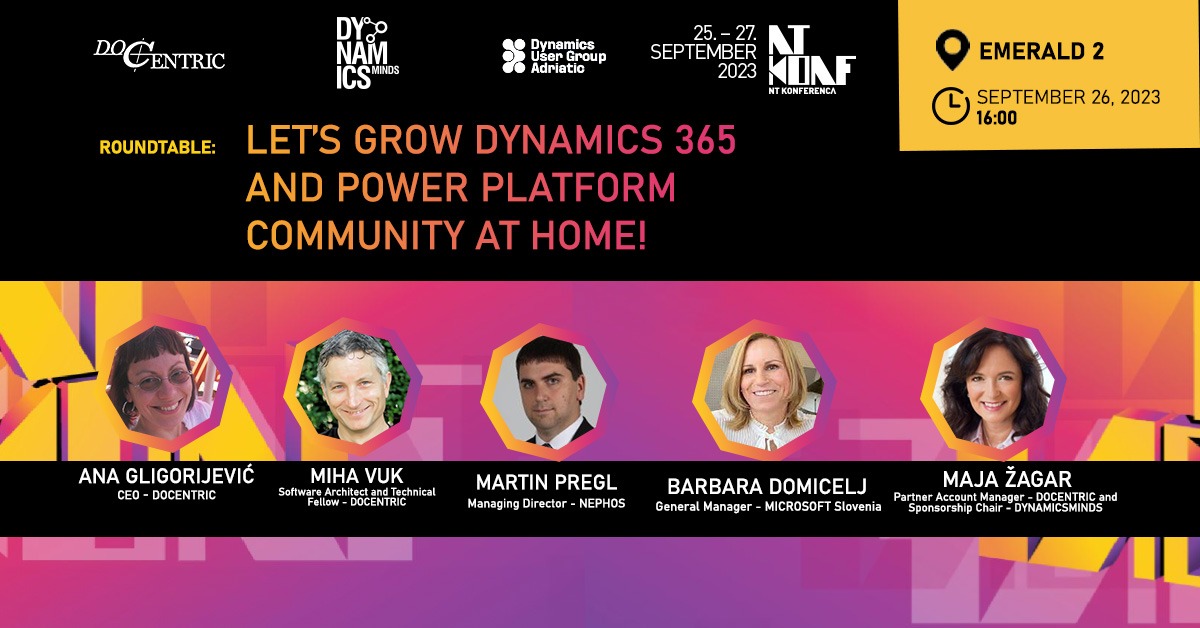 Are you passionate about Dynamics 365 and Power Platform? Want to be up to date with the latest news on these technologies? When faced with a challenge, you love to discuss the possible solution with fellow professionals and experts? Or you just enjoy exchanging ideas, knowledge, and experience with like-minded people in the field? Congrats! You are, just like us, a BizApps community enthusiast 🤩.
User group meetups, community events and conferences we've never had the chance to attend at home, so we've been traveling all around the world 🌎 to meet other BizApps community enthusiasts in person. But we are on the mission to change this, starting now 💥. DynamicsMinds Conference, Power.Si Tech Community and DUG Adriatic are beautiful examples of such growing-community-at-home initiatives.
Join our roundtable at the NT Conference about the benefits of a tight-knit professional community and how to build one at home ❤. We would really love to hear your ideas and suggestions! ➡️ September 26, 16:00.
Besides discussion on the above ongoing initiatives and what's planned next, we'll explore the role of Microsoft and MS partners as well as technology influencers and MVPs, community evangelists and enthusiasts within our BizApps community.
Participants
✅ Barbara Domicelj, CEO at Microsoft Slovenia
✅ Martin Pregl, Community Evangelist & Founder of Power.Si Tech Community, Managing Director at Nephos Slovenia
✅ Miha Vuk, Community Evangelist & Founder of DUG Adriatic, Technical Fellow at Docentric
✅ Maja Žagar, Community Evangelist & Committee Member at DynamicsMinds, Partner Channel Manager at Docentric
Moderator: Ana Gligorijević, Community Evangelist, CEO at Docentric