Docentric AX Free Edition
Improves print destinations for all your reports
in MS Dynamics 365 for Operations.
Completely Free
Free installation, support, hotfixes and updates.
Acts as a component
Easy to install, easy to remove, no external services.
Cloud friendly
Implemented only using extensions.
Configurable
Turn it on or off with a switch.
Print destinations as you expected to be.
Print any of SSRS reports such as Invoice or Purchase Order using improved Docentric print destinations.
Check how much better Docentric print destinations are from the built-in SSRS's.
Email Print Destination
| FEATURES | BUILT-IN SSRS | DOCENTRIC AX |
| --- | --- | --- |
| Use built-in SSRS tokens in To and Cc | | |
| Body, Attachment, Bcc field | | |
| Edit HTML body using rich text editor | | |
| Use placeholders in Body, Subject and Attachment Name | | |
| Use custom email list placeholders in To, Cc, and Bcc | | |
| Add additional attachments | | |
File Print Destination
| FEATURES | BUILT-IN SSRS | DOCENTRIC AX |
| --- | --- | --- |
| Send report to browser (end-user) | | |
| Save reports to Azure or SharePoint | | |
| Attach reports | | |
| Run reports in batch | | |
| Set up output filename suffix | | |
| Use placeholders in output filename, blob container, etc. | | |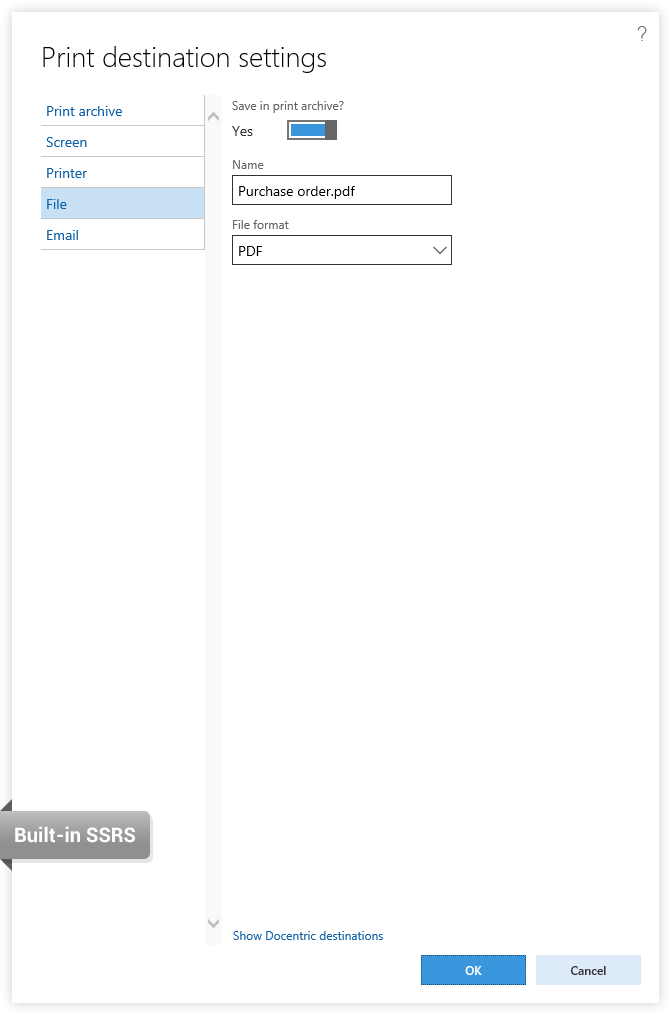 Screen Print Destination
FEATURES
BUILT-IN SSRS
DOCENTRIC AX
Navigate, download or print
No differences between previewed and printed documents *
Thumbnails of report pages
Zoom in, zoom out **
* Discrepancy between previewed and printed document, e.g. in number of pages.
** Not working properly.
Print Archive
FEATURES
BUILT-IN SSRS
DOCENTRIC AX
Log successfully printed reports
Log failed reports
Preview reports
Rerun reports *
SEARCH ARCHIVE BY
Report, e.g. Customer Invoice, Purchase order
User, Execution time
Success/Failure *
Print destination, e.g. Email, File, Printer or Screen
Document ID (e.g. Invoice ID), Source document ID (e.g. Sales Order ID), Customer/Vendor ID, Batch ID, etc.
* This way you will know which reports are failed and rerun them if needed.
X++ HOOKS
We prepared a lot of delegates for you to hook up and dynamically change report run settings and execution flow. For example, with Docentric AX – unlike SSRS – you can hook up to modify created Email message, or even to interrupt report execution at many points in the pipeline.
And to achieve some custom scenarios such as sending report to a web service, you will use Docentric APIs to print report to a memory (the Memory print destination) and handle it from there as you please.
Want to give it a try?
Download, install and use instantly new
awesome print destinations.
Free vs. Full Edition
Curious to find out the difference between
Free and Full Edition?